劉心睿小朋友就讀於聖士提反女子中學附屬幼稚園,她於計劃期內完成了與媽媽一起訂立的閱讀目標--100本 書,成績實在令人振奮!劉媽媽說,「我們訂下目標,要每天閱讀約5本書,每天我都會與她一起提前20分鐘起床,作為固定的閱讀時間。」。劉媽媽更分享提高 小朋友閱讀興趣之道:「我會選擇有豐富色彩插畫的圖書為主,她最喜歡就是可愛小動物或小朋友當主角的歷奇故事呢!

此外,婆婆空閒時也會陪 她閱讀中文書,每讀一本,就給她一個印章作奬勵。」劉媽媽續說:「在展開閱讀計劃前,以一個5歲孩子的認知,會以為直接捐助食物和錢,就可以幫助貧困農 民。現在她會主動跟別人解釋,如果想幫助一個貧困農民家庭,我們可以捐助一頭牛,因為牛會幫助農民耕種,又可以提供牛奶及其他產品,農民就可以自給自足。 作為父母,真的很高興她把"助人自助"的種子植根在心裡,這也是參與『開卷助人』的額外收穫呢!」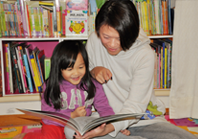 Name of Read to Feeder:
Lau Sum-yui
Wong Cheuk Yan, a Primary 4 student of Lingnan University Hong Kong Alumni D.S.S. Primary School, read a record of 96 books in a month while collecting over $5,000 donation in her 2nd year participation in "Read to Feed".
Cheuk Yan's mother said, "When she found out the more she read, the more needy children she could help, she set a reading goal, and at the same time made great efforts to ask relatives for pledges during the long holiday."
How was it possible for Cheuk Yan to read 3 books per day? "This past month, I tried to play less and take all possible time to read, e.g when riding on the train and waiting for friends. My parents were also very supportive in many ways like taking me to the library more often and meeting family friends at bookstores, etc." One of her favorite books is the Heifer Series - Watermelon Pigs, which enables her to understand someone in the world needs help.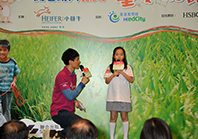 Name of Read to Feeder:
Wong Cheuk Yan